Techart is ready to debut their new 911 Turbo tuning package. It will pump out 580hp from Porsche's 3.8L engine through larger turbos and upgrades to intake and exhaust. All this added power means 0-100 km/h times have decreased from 3.7 seconds to 3.45.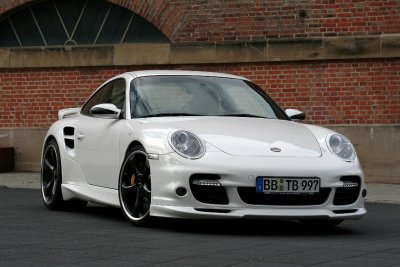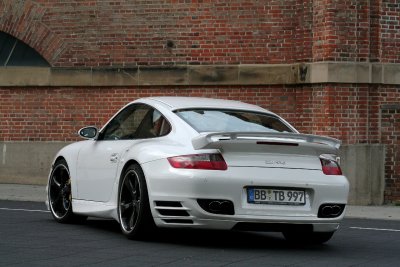 Complete specs after the jump.
PRESS RELEASE/TECH SPECS:

World Debut at the ESSEN-MOTOR-SHOW 2006

TechArt Tuning for the new Porsche 911 Turbo
580 hp / 427 kW, 0 – 100 km/h in 3.46 Seconds, 339 km/h V/max

Maximum performance paired with optimized aerodynamics: TechArt Automobildesign turns the new Porsche 911 Turbo into one of the world's fastest and most powerful street-legal sports cars. 580 hp / 427 kW, 0 – 100 km/h in 3.46 seconds only and a maximum speed of 339 km/h are the most important performance figures of this car.

The 3.6 liter boxer engine was modified by TechArt in many details. Two bigger turbochargers contribute to the TechArt engine tuning just as the sports air filter and the stainless steel exhaust system with special manifolds and integrated high performance catalysts. All modifications get exactly tuned by the recalibrated ECU.
After the conversion the engine delivers 580 hp / 427 kW at 6,000 rpm and a maximum torque of 700 Nm at 4,850 rpm. Power transmission to all four wheels is made via a modified six-speed manual gearbox with TechArt gearshift travel shortage and additional gearbox-oil cooling. Of course the TechArt engine conversion is also available for cars with Tiptronic transmission.
The coupe tuned by TechArt is one of the world's fastest super sports cars: The two-seater coupe catapults from 0 - 100 km/h in 3.46 seconds. Maximum speed is 339 km/h.

These performance figures make greatest demands on perfectly balanced aerodynamics. The TechArt designers developed bodywork components in the wind tunnel which don't only give the 911 Turbo its distinctive look but especially optimal aerodynamic downforce and a drag coefficient reduced by 4 percent.

The TechArt front spoiler reduces aerodynamic lift by 15 percent. They also moulded a new wing profile for the retractable production rear spoiler which produces 20 percent extra downforce in conjunction with the TechArt rear diffuser. The understated TechArt roof spoiler visually stretches the roofline.
The TechArt side sills give the 911 top-of-the-line model a longer, sleeker look. The side mirrors can be attractively upgraded using the TechArt mirror moldings. The look is rounded out with moldings for the headlights.

Especially for the new Porsche 911 Turbo they developed the striking TechArt Formula five-spoke wheels in size 8.5Jx20 in front and in size 12Jx20 on the rear axle. TechArt recommends ContiSportContact 3 tires in sizes 245/30 ZR 20 and 325/25 ZR 20 for mounting on these wheels.

The TechArt VarioPlus coil-over suspension is available for the electronically adjustable PASM damper system of the new Turbo. This chassis offers not only an individually adjustable ride height by up to 25 millimeters, but also selectable 'Normal' and 'Sport' damper settings at the push of a button on the dashboard.
However, the settings are not limited to these presets. Both settings automatically firm up their damper rates during sporty driving. The result is an optimal symbiosis of excellent ride comfort during leisurely driving and agile, highly responsive handling during fast cornering.

As a world-renowned specialist for exclusive interior creations TechArt Automobildesign also offers individual interiors for the latest 911 top-of-the-line version in all colors and designs.
The 580 hp / 427 kW Turbo was upgraded with an exclusive TechArt CarboBlack leather trim, white cockpit panels matching the car's outside color and further sporty accessories. They include an ergonomically shaped airbag sport steering wheel, foot pedals, foot rest and shift knob all made from aluminum as well as stainless-steel sill plates with TechArt logo.

TechArt 2006. Copyright free! Please send us a sample copy. Thank you.
TechArt online: www.techart.de


Porsche 911 Turbo (997) with TechArt Tuning – Technical Specs

Engine:

Watercooled six-cylinder boxer twin-turbo engine with TechArt performance tuning consisting of 2 special turbochargers with variable turbine geometry, sports air filter, TechArt stainless steel high performance exhaust system with special manifolds and steel-bed high performance catalysts and a recalibrated ECU. TechArt engine design package.

Displacement 3,600 cm³
Bore x stroke 100 x 76.4 mm
Max. power 580 hp / 427 kW at 6,000 rpm
Max. torque 700 Nm at 4,850 rpm (from 3,200 – 6,000 rpm permanently more than 670 Nm)
Compression-ratio 9.0:1
Max. boost 1.2 bar
Max. revs 7,100 rpm
Power output per liter 161.11 hp per liter capacity

Transmission:
Permanent four-wheel drive
Six-speed manual gearbox with modified transmission-ratios in 5th and 6th speed, TechArt gearshift travel shortage and additional gearbox-oil cooling

Gear ratios::
1st speed 3.82
2nd speed 2.14
3rd speed 1.48
4th speed 1.18
5th speed 0.92
6th speed 0.75

Axle ratio 3.44

Chassis:
TechArt VarioPlus coil-over sport suspension

Wheels:
TechArt Formula light alloy wheels, one-piece, 8.5Jx20 in front with 245/30 R 20 ContiSportContact3 tires, 12Jx20 in rear with 325/25 R 20 tires.

Brakes:
Standard Porsche Ceramic Composite Brake
Front: 380 mm discs and 6-pot aluminium Monobloc fixed calipers
Rear: 350 mm discs and 4-pot aluminium Monobloc fixed calipers


Bodywork:
2+2 seater coupe with TechArt bodystyling kit I, consisting of: front spoiler I, side skirts, side mirror moldings, rear spoiler I, roof spoiler, rear diffuser, headlight moldings
Length 4,450 mm
Width 1,852 mm
Height 1,300 mm
Wheel-base 2,350 mm
Tank capacity 67 liters
Curb weight 1,592 kg
Weight/power ratio 2.74 kg / hp


Performances:
Acceleration: 0 – 100 km/h: 3.46 s
Maximum speed: 339 km/h

Retail price: about 200,000 Euros

Manufacturer:
TechArt Automobildesign GmbH, Röntgenstrasse 47, D-71229 Leonberg-Höfingen, Germany, Tel: +49 / (0) 71 52 / 93 39-0, Fax: +49 / (0) 71 52 / 93 39 33, Internet: www.techart.de
Techart 911 Turbo
Comments:
Latest Wallpapers
Following is the list of recent pictures updates on our site.