Mazda MX 5 GT Concept 2012
2012-07-02 by Administrator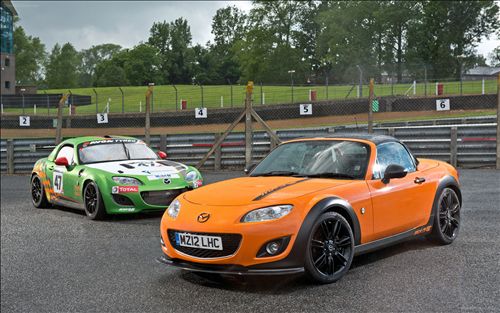 The MX-5 received a lot of attention this year and after the Kuro Special Edition has been launched on the UK market, a new concept of the most successful two-seat roadster has made an appearance at this year's Goodwood event. The Mazda MX-5 GT Concept 2012 has been built by Jota Sport and has made its debut at the Goodwood event in order to test the public reaction concerning this particular mode. If things go well, the car might get into production. Let's see what it has to offer.
Views: 2291
[Source: Mazda]
Mazda MX 5 GT Concept 2012
The standard wallpapers could be used for following resolutions:
1600x1200 | 1400x1050 | 1280x1024 | 1280x960 | 1152x864 | 1024x768 | 800x600 | 320x240 | 160x120
The widescreen wallpapers could be used for following resolutions:
1920x1200 | 1680x1050 | 1440x900 | 1280x800 | 960x600
Mazda MX 5 GT Concept 2012
Under its hood the GT Concept boasts a 2.0 liter Mazda engine able to develop 205 horsepower. The unit is mated with the car's standard six-speed manual gearbox but the suspensions have been replaced by an adjustable one for better handling on a multitude of track conditions. A new sport exhaust system with central tailpipe has replaced the old one for both a better exhaust note and an increase in performance.
On the exterior the GT received quite a lot of carbon fiber elements including the front splitter, the boot spoiler and the rear diffuser. The side skirts, side mirrors and hard-top have been painted in black to match the gunmetal wheels and to contrast the orange body paint.
Inside, the MX-5 GT Concept comes with a couple of new Recaro seats and same as on the exterior, a multitude of carbon fiber elements enhance the interior of the MX-5 in order to reduce the overall weight of the roadster. For now, optional extras include body-colored roll hoops behind the seats and road-legal slick tires for those planning on taking their GTto the track as well.
That's about it for now. Unfortunately, details regarding the price have not been given because, as mentioned before, the Mazda MX-5 GT Concept will go into production (or not) depending on how it will be received by the public. Let's hope things go well and we'll get to see the beefed-up MX-5 on the streets sooner rather than later. Not only that the Concept looks and sounds pretty cool by itself, but for those wishing to buy a more out-of-the-ordinary MX-5 this is definitely the answer, unless of course you were able to purchase the limited-edition Kuro.
Comments:
Latest Wallpapers
Following is the list of recent pictures updates on our site.