Lamborghini Blancpain Super Trofeo 2012
2012-06-30 by Administrator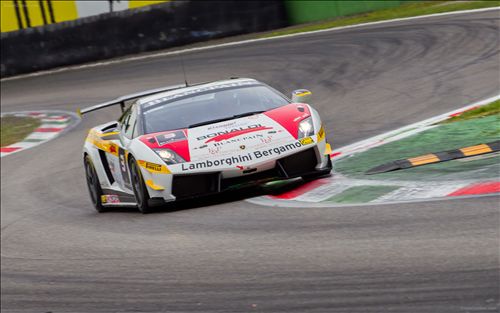 The 2012 Lamborghini Blancpain Super Trofeo season began in April, featuring the Lamborghini Super Trofeo: a lightweight version of the Gallardo LP 560-4. The Super Trofeo has a reworked chassis and a power output of 419 kW (570 hp) from its V10, Iniezione Diretta Stratificata engine. The race car features Lamborghini's permanent four-wheel drive, making the Super Trofeo the only single make, all-wheel drive motorsport series.
Views: 2783
[Source: Lamborghini]
Lamborghini Blancpain Super Trofeo 2012
The standard wallpapers could be used for following resolutions:
1600x1200 | 1400x1050 | 1280x1024 | 1280x960 | 1152x864 | 1024x768 | 800x600 | 320x240 | 160x120
The widescreen wallpapers could be used for following resolutions:
1920x1200 | 1680x1050 | 1440x900 | 1280x800 | 960x600
Lamborghini Blancpain Super Trofeo 2012
Lamborghini is partnered by the luxury Swiss watchmaker Blancpain, the series' title sponsor, creating a perfect partnership between two prestigious and highly-innovative brands.
One of the world's largest tyre manufacturers and sole OEM supplier to Automobili Lamborghini, Pirelli partners the Lamborghini Blancpain Super Trofeo series. With a successful motorsport heritage across rally, sports cars and Formula One, Pirelli will be the strategic partner of the series for the fourth season in succession. With a history built on high performance tyres, Pirelli is a world leader in both original equipment and the aftermarket, with 24 factories in 12 countries around the world.
The one-make racing series visits circuits across Europe including Monza, Paul Ricard and Spa Francorchamps, as drivers compete at the wheel of 570hp V10 Lamborghini Super Trofeo race cars.
Comments:
Latest Wallpapers
Following is the list of recent pictures updates on our site.