Radical SR8 LM now with 455hp V8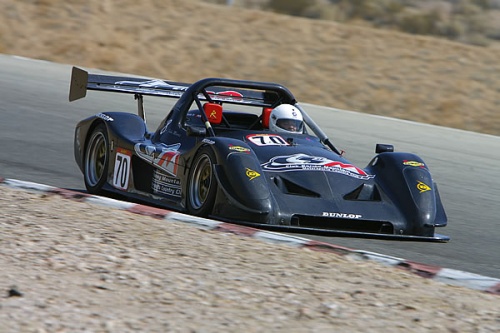 Having already smashed the Nurburgring record with a 6:55 time using a 360hp SR8, Radical is at it again with an even more death-friendly car that pumps out 455hp. The new car is powered by a Powertec RPB motor using Suzuki GSXR 1300 cylinder heads mated to a Powertec crank case assembly. With 10,500 rpms on tap and controlled by an in-house designed paddle shift system, the car can keep up with most LeMans prototypes on most circuits, hence the new car's LM moniker in it's name. Anyone wanna donate one to Dieselstation? :) Read on for official press release and a video of the record smashing run.
Radical Launch 455bhp SR8LM
01 July 2007
Already the fastest prototype on the club racing scene and with the Nürburgring Nordschleife lap record to its name, Radical's SR8 is now available with a more powerful Powertec V8 motor and an all-new Powertec transaxle.
The SR8LM, as the car is to be known, is powered by a 2.8 litre, 455bhp Powertec RPB motor which is based on the hugely successful 360bhp RPA motor. Like the RPA, the RPB utilises Suzuki GSXR 1300 cylinder heads mated to a Powertec designed and manufactured crank case assembly. Weighing in at only 88kg the RPB engine incorporates a four-pump dry sump system with two oil pressure pumps and integral rotary vane water pump. Powertec uprate both the cam shafts and cylinder heads and fit purpose-designed forged pistons and conrods. The twin-butterfly plenum induction system of the RPA is replaced with an eight-butterfly direct injection system, which dramatically improves response and drivability. With 30 hours between rebuilds, the fully warrantied RPB gives exceptional value as well as power.
Radical have also installed an 'in-house designed' Powertec P-tec six-speed transaxle which transmits the 455bhp and 10,500 maximum rpm of the Powertec motor to the circuit. Gear-change is via Radical's own paddle-operated power shifter which allows flat shifts going up the box and automatically 'blips' the throttle going down. A considerable amount of work has been carried out to match the Powertec P-tec transaxle with the pneumatically-operated Powertec PS1 shifter.
The result of all this technology is a car capable of matching a Le Mans prototype around most circuits, hence the 'LM' designation. Radical co-founder, Mick Hyde elaborates, "Many of our customers world wide, race their Radicals in multi-make sports car series and require a car that will beat all-comers. The SR8 is that car. It is the fastest off-the-shelf sports racer in the world (actually it takes six weeks to build one) and at £89K ready to race, the SR8LM is also extremely good value."
John Morris, Radical's USA West Coast distributor, recently took delivery of one of the first SR8 LM's at his Nevada race track - Spring Mountain Motorsports Ranch; "When I first drove the car it reminded me of an F1 car. The sound, shifting, braking and pure acceleration that took place in a simple test ride. Brad, my brother-in-law, went out to shadow me to get a feel for the two cars. Brad is one of the fastest drivers on the 1.5 mile track in a new 1500cc SR3. The SR8 is truly an amazing car! Needless to say Brad might as well have been in a road car, because the SR8 left him in an instant. The engine is silky smooth with acceleration that just doesn't stop coming. The transmission shifts like butter and of course the car corners better than ever."
"All I can say is I'm sure you'll find this car to be truly the most formidable car you've ever driven. It's truly amazing and you'll have the biggest smile you've ever had within a few minutes on the track. You'll be thanking all the great guys at Radical for providing us with one very special car that few motorsports enthusiasts will ever experience!"
Source:
Radical Sportscars
Radical SR8 LM now with 455hp V8
Comments:
Latest Wallpapers
Following is the list of recent pictures updates on our site.