Cayman based RUF 3400 K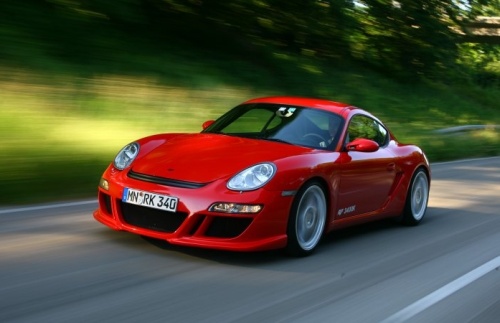 For RUF's 25th anniversary, they have released 2 new models based on the Cayman and the Boxster. Both produce around 400bhp, and 324 lb/ft of torque. That's enough power for a 0-62 mph sprint in 4.4 seconds with a top speed of 181 mph. Other changes besides the performance upgrade include an upgraded interior with a RUF leather steering wheel and instrument panel, a new sports bodykit and front lip, and new lightweight racing wheels. Prices start at €79,800 for the Coupe and €75,100 for the Roadster.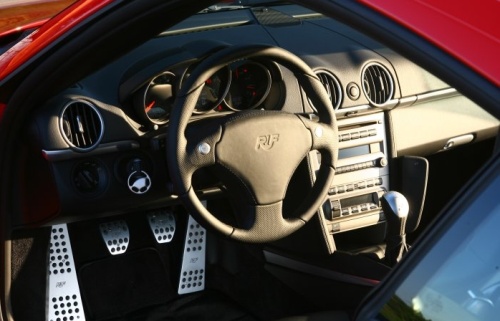 RUF 3400 K 25th Anniversary Edition

400 hp celebration

With the 25th anniversary edition model RUF offers an exciting entry vehicle for an attractive price. The 25 years of experience of RUF Automobile GmbH as an authorised automobile manufacturer are the reason for this edition model.

RUF offers the 3400 K in two body versions - as a Coupé (price Euro 79,800 plus VAT) and Roadster (price Euro 75,100 plus VAT).

The agile mid engine concept in combination with a powerful torque and high revving Kompressor engine offers effortless performance and driving pleasure at the highest level.

Power: 294 kW (400 bhp) at 7,000 rpm
max. Torque: 440 Nm at 5,500 rpm
Displacement: 3,387 cm³
Compression ratio: 10.0 : 1
Performance: 0-62 mph (0-100 kph) in 4.4 s
0-125 mph (0-200 kph)

Coupé: in 14.6 s

Roadster: in 14.8 s
Top speed: 181 mph (290 kph)

Source: RUF



Cayman based RUF 3400 K
Comments:
Latest Wallpapers
Following is the list of recent pictures updates on our site.