BMW M3 Film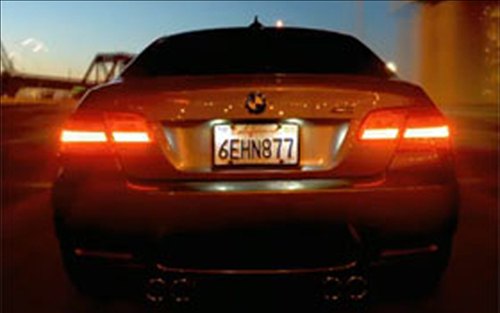 BMW has released this new M3 video called "Living in the Lights". The film was directed by Baja 500 winner Mouse McCoy on location in Los Angeles.
The video was produced as part of a campaign by production crew Bandito Garage as an effort to drum up more business. Bandito Garage is a production house that specializes in creating content for commercials and product placement. The BMW M3 film features the V8 German legend taking a lady for a spin around LA at night. The film has nothing else but amazing images, engine sounds and a very well chosen music theme.
Watch the short BMW M3 film after the jump.
Views: 7487
[Source: YouTube ]
Press Release
BMW M3 Races Out of Bandito Garage
Streamlined Automotive Spot Production Used to Create a New Biz Model
CULVER CITY , Calif. --A new film by Mouse McCoy featuring the BMW M3 may do more than relate to the passion of car fans. If you're an advertising agency or client in the automotive world, you may have dreamed of an extreme production environment, a one-stop shop that refines the process of producing industry-leading content for commercials, content footage, branded entertainment, and product placement by servicing all of these needs under one roof. As evidenced by a new BMW ad and print campaign created on spec, this dream has become a reality in the form of the Bandito Garage, a cost-effective, seamlessly-integrated approach to car content and positioning.
Overseen by a pit crew of seasoned Automotive and Production professionals, the Bandito Garage has rolled open its doors in Culver City , under the auspices of full-service media company Bandito Brothers. "Clients are more conscious of the money they spend on advertising - you now have cross-brand shooting at once, and it's hard to define a means of executing it," said Sumer Friedrichs, formerly of Campbell-Ewald, now the Garage's Detroit-based Producer. "As tier one and two advertisers struggle to assemble the spots they need, our model offers a perfect solution. As a producer, I sought a combination of excellence and flexibility. All elements may not be running on a simultaneous calendar but need to connect. We mold the production as needed, with top-of-the-line talent handling everything."
The Bandito Garage is comprised of just such a team. On the production front, Bandito Brothers offers vast expertise mounting complex physical productions for Ford, Mt. Dew , and the US Navy. Known for in-camera action and smooth execution across tough terrain, it has full in-house post-production capabilities encompassing digital asset management, and experience in long form branded content and product-placement. "Our M.O. is to get out in front of a challenging situation and solve problems," said Bandito EP and veteran commercial producer Jeff Rohrer. "We've all been doing this long enough to know how to maximize the client's dollar, integrating the process and offering value, talent and organization."
Vic Huber, who shot the BMW M3 work, is a leader in advertising photography whose notable projects include 20 years with Marlboro Team Penske/Leo Burnett and recent Toyota Venza and Prius-Hybrid launches. Boyd Jaynes has shot award-winning work for Nissan, Infiniti, and countless print publications.
Shelly Ward Enterprises is one of the biggest prep companies in the world, and its Pursuit Systems Division is known for state of the art camera cars and gyro stabilized Pursuit Cranes.
"This entity is born of a typical approach to new business - a problem out there inspires a solution," explained Bandito Brothers COO Max Leitman. "We remove layers of markup, consolidate services, and take a team approach. We put together the team to best execute the project, maintain brand integrity, and keep the money on the screen."
Latest Wallpapers
Following is the list of recent pictures updates on our site.