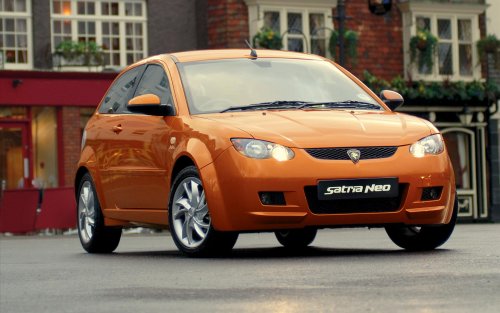 Lotus owns Proton and the designers of Lotus team contribute to the development of the Proton models. Satria Neo is a super mini car produced by Proton. Proton has the autumn clearance sale and is offering £2,500 off the Satria Neo 1.6 GSX until 31st December 2008.
Views: 23396
[Source: Proton]
Satria Neo 2009
Satria Neo 2009
Save £2,500 on a Lotus-developed Supermini
The great Proton autumn clearance sale just keeps getting better, this time with £2,500 off a Satria Neo 1.6 GSX until 31st December 2008.
Customers after a cheeky bargain on a new car this autumn can rely on Proton to deliver the ultimate in value for money. At just £7,495 for the manual transmission and £8,295 for the automatic on the road, this three-door supermini has more than just price going for it. Lotus-developed ride and handling give you superb control and the 16 valve Lotus-engineered CamPro engine is tuned for optimum performance. Highline spoiler, 16" alloy wheels and aerodynamic profile promise an exciting drive, whilst a full array of safety features, such as twin airbags and side impact protection bars, ensure driver and passengers are protected.
Inside the car, the Lotus Design Studio is evident in the practical touches that went into this sporty hatchback. The driver's seat is fully height, slide and tilt adjustable and the steering column is also height adjustable, so you can choose your perfect driving position. There's room for three people in the back and the rear seats split and fold, extending the boot capacity to 615 litres, plus extra storage in the centre console, front door pockets and glove box. Also as standard are air conditioning with climate control, audio controls on the steering wheel, electric windows and door mirrors and reverse parking sensors. The automatic model also comes with cruise control, unique on a car at this price. And if all this isn't enough, the Proton Satria Neo also comes with 3 year/60,000 mile total vehicle warranty and 3 years' free RAC cover.
Proton Satria Neo 2009 - SuperMini from Lotus
Comments:
Latest Wallpapers
Following is the list of recent pictures updates on our site.