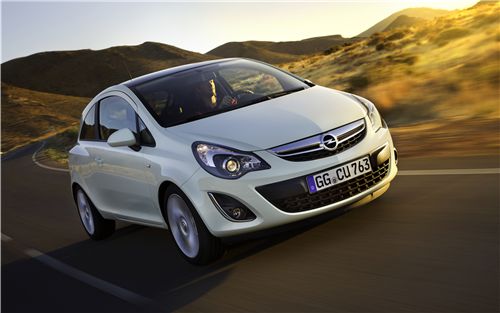 With five doors and five seats, the new Opel Agila is not only as practical as its predecessor, which sold over 440,000 units, but now also boasts a much more agile and dynamic design.
Views: 7349
[Source: Opel]
New Opel Agila: Friendly, Dynamic, Flexible
Concept: Five door mini-monocab with five fully fledged seats
Functional: Versatile thanks to practical details
Styling: Balanced proportions, distinctive lines
Powertrain: Two gasoline engines, one turbo-diesel, automatic transmission
Rüsselsheim/Geneva. With five doors and five seats, the new Opel Agila is not only as practical as its predecessor, which sold over 440,000 units, but now also boasts a much more agile and dynamic design. The new Opel mini-monocab makes its market premiere in spring 2008, with prices starting from 9,990 euros (Germany). It boasts balanced proportions, soft curves and a distinctive side graphic. Its passengers still sit high and upright, but the roofline has been dynamically lowered and now blends into a smooth arc toward the rear. This helps create the Agila's aerodynamic drag coefficient of 0.32 - a relatively low figure for a vehicle of this size. The car is now twenty centimeters longer, six centimeters wider, but seven centimeters lower than its predecessor.

Design: Distinctive charm, inside and out

The Agila has always been practical. But the objective for the second-generation Agila was even greater: "We wanted to give our smallest car considerably more charm without compromising its functionality," says Chief Designer Uwe Müller, describing the new Agila's concept phase. "With its rather cheeky look, the new Agila fits perfectly into the current Opel model portfolio."

The front boasts typical Opel styling. With its round headlamps integrated into almond-shaped lamp units that echo the Corsa, the Agila sees the world through wide eyes. Other Opel design elements include the tapering of the front and rear bumpers, as well as the typical crease in the hood. The rear also boasts several rounded elements. The positioning of the narrow vertical light units allowed designers to create a large, easy load-through tailgate. The rear look is further accented by the spherically styled rear lights.

The Agila boasts a wide selection of fresh colors and modern styles. This creates an interior ambience, which is further enhanced by the spacious headroom. The versatile five-seater's high seating position ensures good visibility, while the ergonomically positioned gear stick and tiltable steering wheel with radio remote controls ensure easy operation. The rev counter is housed separately on the instrument panel. All other information readouts are given on large, distinctive, round instruments.

Body: Fully fledged five-seater with top flexibility

With five fully fledged seats, five three-point seatbelts and five doors as standard, the Agila offers plenty of space for family and friends. It is also an exception in a segment crowded with four-seaters and three-door models. There is no small-car feeling for Agila occupants, thanks in part to the extensive noise reduction measures on board. The comfortable, slightly elevated and upright seating position enables excellent visibility, while the higher roof also plays an important part in the pleasant feeling of spaciousness on board. Even adults seated in the rear do not feel cramped.

The Agila's standard capacity up to the luggage compartment cover is 225 liters, large enough for a stroller, for example. One turn of a handle drops the rear bench seat back, increasing the load volume to an impressive 1050 liters - a top value in this segment. The rear bench seat and back split 60:40 in the Enjoy version. Folding down one section of the seat back also lowers the corresponding seat cushion to create a completely flat luggage compartment floor. As an urban companion it also offers plenty of compartments and boxes.

Equipment: ABS as well as front and side airbags are standard

All Agilas come with extensive equipment ex works. Safety features such as ABS, front and side airbags for driver and front passenger, airbag deactivation for the front passenger seat and mountings for the ISOFIX child seat fixture system are also fitted as standard. The Enjoy version boasts even more standard features than the Essentia variant, including air conditioning, remote control central locking and power windows in front.

Engines: Opel Agila is lively and economical

Two gasoline engines make their world premiere in the new Agila. They share the same basic design: aluminum cylinder block and head and two overhead camshafts. The entry-level unit is the one-liter, three-cylinder gasoline engine. The four-valve unit produces 48 kW/65 hp and takes the Agila to a top speed of 160 km/h. The Agila 1.0 adheres to the 120 g CO2/km emissions limit, which translates into special tax advantages in several European countries.

The 1.2-liter Agila has a four-cylinder gasoline engine that produces 63 kW/86 hp and accelerates it from zero to 100 km/h in 12.3 seconds. The Agila 1.2 has a top speed of 175 km/h (values for five-speed manual version). The Agila 1.2 also boasts economy and low emissions: an average consumption of 5.5 liters per 100 km corresponds to 131 g/CO2 per kilometer. This engine will also soon be available with an optional four-speed automatic transmission - an especially attractive alternative for city driving.

The fuel-saving master among the Agila engines is the 1.3-liter common-rail turbo-diesel. Developed by GM Powertrain, the diesel engine is a true multi-talent and also offers an interesting alternative in the Corsa and Astra model lines. With this unit, the new Agila produces 55 kW/75 hp, has a top speed of 165 km/h and accelerates from zero to 100 km/h in 13.9 seconds. The efficient diesel Agila (maximum torque of 190 Nm) is also very economical, requiring an average of just 4.5 liters per 100 km. This corresponds to 120 g CO2/km.

Chassis: Agila now much more agile

"Make the Agila even more agile - that was the clear aim during chassis development, to translate the new dynamic look into corresponding agility," says Agila Engineering Manager Marcus Lott. The Agila's chassis, which features A-arms and McPherson struts in front and semi-independent rear suspension, is tuned for driving fun. ABS is fitted as standard. Depending on the market and equipment variant, the Agila also features Electronic Stability Program (ESP) and head curtain airbags.
Opel Agila 2008
Comments:
Latest Wallpapers
Following is the list of recent pictures updates on our site.