MINI Clubvan 2013
2012-06-30 by Administrator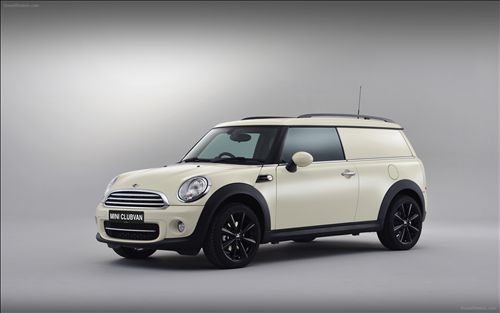 During the past few years MINI has expanded their range of vehicles with models such as the Coupe, Roadster, Clubman or the Countryman, and now they intend on launching a new variant of the Clubman at which roots resides the Morris Mini Van launched quite a few decades ago. The Mini Clubvan 2013 aims to deliver the advantages of a commercial vehicle whilst keeping tax rates and other costs as low as possible.
Views: 2315
[Source: Mini]
MINI Clubvan 2013
The standard wallpapers could be used for following resolutions:
1600x1200 | 1400x1050 | 1280x1024 | 1280x960 | 1152x864 | 1024x768 | 800x600 | 320x240 | 160x120
The widescreen wallpapers could be used for following resolutions:
1920x1200 | 1680x1050 | 1440x900 | 1280x800 | 960x600
MINI Clubvan 2013
Overall, the Clubvan is pretty much identical to the Clubman but come with some key differences such as the fact that the van does not have rear seats or rear side windows, it has a flat load floor, tinted glass in the rear doors, carpeted side walls, a cargo-attachment system at the back and 12-volt sockets fitted in the cargo area which offers 30.3 cubic feet of storage and a maximum payload capacity of 816 pounds, in an area measuring 40.1 inches high and 44.8 inches long.
In the US the Clubvan will be offered with only one engine, a 1.6 liter four-cylinder unit able to deliver 121 horsepower. The 1.6 liter unit will be paired up with either a six-speed manual or an automatic transmission.
In terms of customization the MINI's van has little to offer and only four exterior colors will be available, including British Racing Gree, Ice Blue, Midnight Black and Pepper White. On the interior the van is a bit more generous than on the outside and offers sport seats as in cloth or leather as an option, a wider range of interior upholsteries plus some other MINIaccessories and features such as the park distance sensors, the automatic climate control, and a 6.5 inch LCD infotainment system just to name a few.
As far as pricing goes nothing has been revealed so far but more information is bound to surface once we'll get closer to its debut at the Paris Motor Show. In case the MINI Clubvan 2013 is exactly what you were looking for in your business, you'll have to wait until fall this year for the car to make its way in US dealerships.
Comments:
Latest Wallpapers
Following is the list of recent pictures updates on our site.