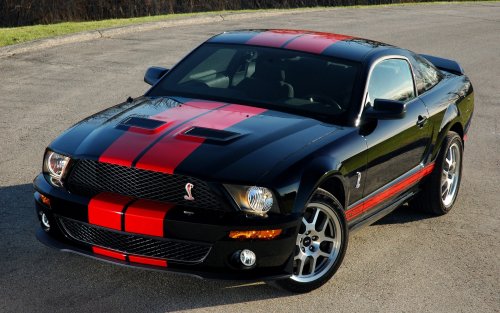 The demand for this muscular Mustang in its own narrates the glory Ford Shelby GT500 carries and to give it a new hike Ford is now presenting its unique visual appeal with the Red Stripe Appearance package. With the new Ford Shelby Cobra GT500 Red Stripe it is clear that Ford has created new benchmarks for its competitors and the upgraded standard for the car lovers. There is no doubt to the fact that the Ford Shelby GT500 is one of the most successful mechanic accumulations of Ford's Special Vehicle Team. Let that than be, its performance or quality. The same traits now get an addition with the looks. Let us take a closer look at this new Red Stripe version of Ford Shelby GT500 Cobra.

INTERIOR
The Ford Shelby Cobra GT500 Red Stripe package in its interior holds floor mats with embroidered "Cobra Snake" logo in red and silver. The Red and Black leather interior is convincingly a superb addon for this ultra muscular sports car. Apart from this the interior components and feature carry the same glory of predecessor from which it has been modified and re-presented to the buyers. The sporty leather covered steering with instrument panel holding all what a driver need for a perfect and safe ride, the Ford Shelby Cobra GT500 Red Stripe offers an irrevocable spacious interior.

EXTERIOR

The Exterior of Ford Shelby Cobra GT500 Red Stripe got unmatched revision. The list holds red-accent exterior badges with gleaming red over body and side body stripes. The Grille of the model includes red-tinted Cobra emblems giving it an aggressive look, with the same pattern being followed for fenders and faux gas cap on rear panel. The red accent doesn't lose its essence even on the decklid which features "SHELBY". You can also very well notice functional air splitters on wide upper and lower fascia of Ford Shelby Cobra GT500.
PERFORMANCE
Being loyal performance of the model is the major reason behind its grand success and turned to be invitation for the Ford Shelby Cobra GT500 Red Stripe version. The model like rest gets 5.4 liter supercharged V8 engine distributing 500 hp of power throughout the vehicle. The engine is mated to 6 speed manual gearbox which features evenly sequenced gears to avail the driver sharp driving experience both on road and on track. To add more to the performance of Ford Shelby Cobra GT500 features like revised shocks, spring rates and a level ahead stabilizer bars work commendably.
There is no stammer while denoting the Ford Shelby Cobra GT500 Red Stripe as an unmatched amalgamation of power, space and looks. As far as price of the version is concerned the MSRP of 2007 Ford Shelby GT500 begins at $41,675.