Chevrolet Camaro Convertible 2012
2012-06-23 by Administrator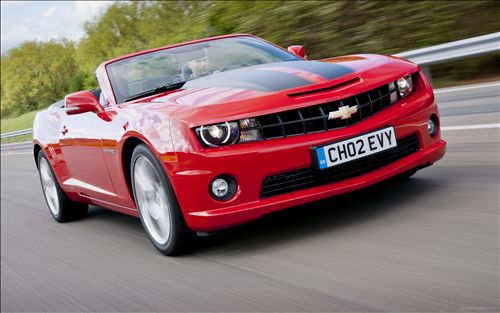 This year Chevrolet continues to offer the Camaro in two flavors, as a coupe as well as a convertible. The latter boasts the same increase in power as its hardtop kin, and very few other changes besides the fact that it comes with a soft-top. Nevertheless, sometimes that's all that matters to completely change a car, so let's take a look at what the Chevrolet Camaro Convertible 2012 has in store for us.
Views: 2515
[Source: Chevrolet]
Chevrolet Camaro Convertible 2012
The standard wallpapers could be used for following resolutions:
1600x1200 | 1400x1050 | 1280x1024 | 1280x960 | 1152x864 | 1024x768 | 800x600 | 320x240 | 160x120
The widescreen wallpapers could be used for following resolutions:
1920x1200 | 1680x1050 | 1440x900 | 1280x800 | 960x600
Chevrolet Camaro Convertible 2012
First of all, the convertible comes with a choice of two engines and four variants. The 1LT and 2LT trim levels come with a 3.6 liter V6 unit delivering 323 horsepower and 278 lb-ft of torque mated with either a 6-speed manual gearbox as a standard, or a 6-speed automatic transmission available as an option.
However, for those aspiring towards a more powerful convertible, Chevrolet is offering the aluminum Camaro SS 6.2 liter V8 powerplant able to develop 426 horsepower and 420 lb-ft of torque. The 6.2 liter unit is available on the 1SS and 2SS variants, following the same patter as before in terms of transmission: Six-speed manual standard or a six-speed automatic as an option.
Fuel efficiency is rated at 17 / 28 mpg city / highway for the 3.6 liter unit and 16 / 24 mpg city / highway for the beefy 6.2 V8 unit.
Both the interior and the exterior of the Camaro Convertible are very similar to those of the Coupe, save the soft-top which folds in roughly 30 seconds.
Standard equipment on all the trim levels include 6 airbags, OnStar navigation system featuring Automatic Crash Response, StabilitiTrak Electronic Stability Control System with traction control, tire pressure monitor, Ultrasonic rear park assist and rear camera featuring rearview mirror display, Bluetooth connectivity and SiriusXM Sattelite Radio with three months free trial.
A quick list of additional equipment that can be found on the SS variant as a standard includes USB port, PDIM (personal device interface module), Heads-up display, leather wrapped shift knob and steering wheel, remote vehicle starter system, Auto-Dimming mirrors and four-piston Brembo brakes.
As far as pricing goes the Chevrolet Camaro Convertible 2012 has a MSRP price of $30,180 which is a bit more costly than the $27,200 Ford Mustang Convertible. In case you're on the lookout for an import convertible you might be interested in the $23,500 Mazda MX-5 Miata 2012 or the $39,500 Nissan 370Z Roadster 2012.
Comments:
Latest Wallpapers
Following is the list of recent pictures updates on our site.